Stairs are not only important but essential centerpieces for many designer homes. The material chosen by the homeowner strongly reflects their personality, as well as their design needs. To pick the right flooring for your stairs, you need to take a deep look at yourself and the future of your home- what kind of atmosphere do you see representing you? The material used for the flooring of your stairs is often overlooked, but ultimately it can be an incredibly important piece of the final design aesthetic of your home.
There are a plethora of different factors and variables to take into consideration while deciding what is the best type of flooring for your stairs, here are some of the key points to consider: 
Foot Traffic
Families come in all shapes and sizes- an important thing to consider when choosing the best type of flooring for your stairs is how many people will be consistently using them. Heavier use and foot traffic can damage certain materials over time and will not give you the longevity you were hoping for. Things like children or pets can cause a lot of foot traffic in a short amount of time, and areas that see lots of heavy loads such as garages or storage rooms can also take on damage due to the weight they endure. 
When you need floors that will last, Flooring Liquidators has you covered. Many of our most durable products come in the form of vinyl flooring, which can take on lots of foot traffic with ease.
Our stores have an extensive selection of all sorts of vinyl that is perfect for your stairs. This vinyl flooring from the VANNTETT Collection is designed to be waterproof, stain-resistant, and stay beautiful for years. 
VANNTETT COLLECTION – BROOKLYN LOFT
Audibility
There are light sleepers, heavy sleepers, night owls and early birds. Nothing can be more frustrating while trying to sleep or relax than the constant thumping of feet pounding up and down the stairs at all times of the day. Based on how soft/hard the stair flooring material is, will greatly impact the noise generated by each step up the stairs. If there are any key rooms beneath the stairs, you should take that into consideration as well.
To help muffle the sounds of heavy feet climbing your stairs, we recommend our quietest material: Carpet Flooring.
Flooring Liquidators has an extensive selection of all sorts of carpet in our online store that is perfect for stairs. This multi-purpose carpet flooring by BeauLieu is made in Canada, stain-resistant and designed to bring you the best of both worlds; comfort, and performance. 
BEAULIEU – MAINSTREET VELOCITY 
Socks and Grip
You'll definitely want to take the steepness of your stairs into consideration when choosing which floors will work best. Slipping down your stairs can be more than a shocking inconvenience, as well as a potentially dangerous accident. A lot of the material specifically designed for implementation and use on stairs has some sort of grip or grit to prevent accidents from occurring. But still, some materials are much more slippery than others, so depending on who will be using the stairs the most will be important in the final decision of the right material for your stairs.
Be sure to consider a number of our least slippery material options, including carpet. Flooring Liquidators has an extensive selection of all sorts of carpet that is perfect for stairs. This carpet flooring from BeauLieu Canada is perfect for homes with pets and will keep its beautiful colour for decades.
BEAULIEU – STAINMASTER HARRIER
Comfort Level
If you have ever stood on a concrete floor with your socks on, you know what a "hard" floor surface feels like. Depending on the aesthetic and needs of your home, you may want a harder or softer material when choosing your flooring for your stairs. Softer materials like carpet are great for children who rush up and down stairs daily. Harder materials, which are much more aesthetic, are much less comfortable on bare feet. If you anticipate a lot of foot traffic from outside or wearing shoes, consider something much easier to clean like hardwood.
Flooring Liquidators has an extensive selection of all sorts of carpets or hardwood that is perfect for stairs. This carpet flooring from BeauLieu Canada is perfect for homes with pets and will keep its beautiful colour for decades.
Budget
Everyone is different, which is why we pride ourselves on having an array of fantastic options in multiple different material categories, no matter your budget. Flooring Liquidators offers hundreds of options for staircase flooring for any type of homeowner. Whether you're looking for a certain colour, texture, look or feel, our sales specialists are standing by to assist you in discovering the perfect flooring for your stairs and your budget. If you are like us and value functional perfection, look no further, Flooring Liquidators has the right product for you. 
So, What is the Best Type of Flooring for Your Stairs?
Let's take a look at our options!
When most people think of flooring for stairs the first material that comes to mind is hardwood. Hardwood is beautiful, timeless, and refined. Hardwood flooring looks fantastic and can be the perfect choice for those who love the aesthetics of natural wood. Flooring Liquidators offers a wide assortment of hardwood flooring catering to different style preferences.
Flooring Liquidators has an extensive selection of all sorts of hardwood floors that are perfect for stairs. This beautiful oak hardwood from the BISTRO collection is gorgeous and will give your home a unique and original look for years to come. Alternatively, we have great hickory looking options for a warmer, more homey look.
HICKORY – RENAISSANCE COLLECTION 
Carpet flooring actually has several positives when compared to other flooring materials commonly used for stairs. Carpet flooring for stairs is quiet, soft, and the most comfortable on your feet and body. It adds a cozy element to your home and can easily make it feel more comfortable and warm. 
A new collection from BeauLieu is the PetProtect™ line, consisting of carpet flooring that is specifically designed and engineered for families with pets.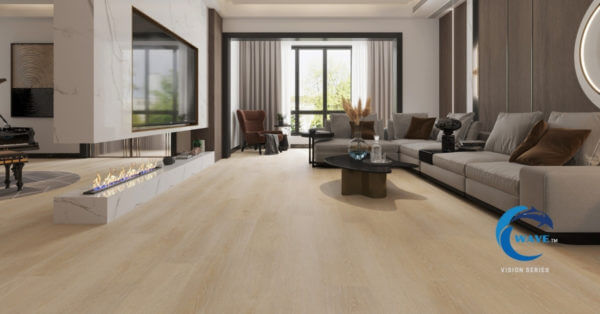 Because of its durability and budget-friendly nature, vinyl has become a popular material choice for flooring for stairs. Coming in virtually limitless variations of texture, colour, and feel, it is a versatile, all-around great choice. Vinyl flooring is easy to clean, resistant to stains, and easy to replace and maintain. Vinyl flooring also has the unique ability to be manufactured differently resulting in vastly different looks and feels. Vinyl flooring can be produced to mimic hardwood, metal, and even glass and ceramic tiles. At Flooring Liquidators, we have the expertise and the knowledge to match you with the exact product to suit your needs.
If you are looking for vinyl flooring that has the look and feel of hardwood, look no further than the SUREWOOD PLUS LUXURY VINYL line of flooring.
If you have any further questions at all or require any assistance in selecting the right floor for your stairs, don't hesitate to get in touch with one of our specialists at 1 (866) 473-7222!